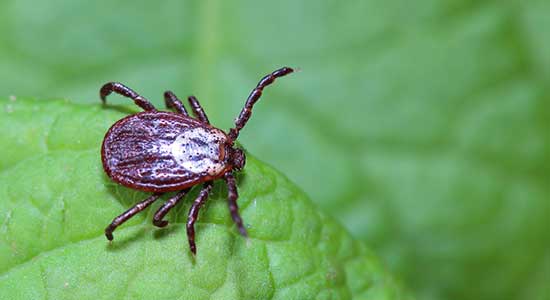 Ticks pose a danger to you, your family, and your pets. When they move into your yard, it becomes a
place where you no longer can play, relax, and enjoy.
Pest Control Unlimited is here to educate you about these troublesome pests. We also offer tick control prevention programs that will help you eliminate these creatures from your property so you can enjoy the
outdoors without worry.
About Ticks
Ticks literally feast on blood, almost like tiny vampires. They attach to a host and enjoy a nice blood
meal, which can cause serious skin irritation.
Despite common belief, ticks don't fly. They usually spend time on thick vegetation where predators
can't see them, then jump on a host as it walks by.
Ticks are carriers for several ailments like Lyme disease, tularemia, and Rocky Mountain spotted fever.
If a tick is attached to you, use tweezers to pull it straight up and out of your skin, then wash the area thoroughly.
Tick bites can swell up and remain irritated. If you experience an extreme reaction to the bite, seek
medical attention.
Eliminating Ticks: Our Tick Spray for Yard Treatment
You don't have to endure tick invasions in your yard. Fight back with our organic tick control program,
which will seriously reduce the chance you, your loved ones, and your pets are exposed to these
dangerous pests.
Our tick spray for the yard is treatment is organic. Because we use organic elements in our applications, you don't have to worry about chemicals harming anyone. Instead, you enjoy continuous protection, which varies depending on the weather and conditions. The life cycle of the ticks also affects how long the applications offer protection. Regular applications will help keep the tick population low or nonexistent. Our friendly technicians are more than happy to explain these elements for your specific situation.
Preventative Measures
While our tick control applications can help guard against these troublesome pests, you can do even
more to protect yourself. Some of these measures even work when you're away from home and might
be exposed to ticks, like taking a hike in the woods.
Apply repellent that contains 20% or more of DEET to your exposed skin. You can also wear clothes
that have repellent built into them for even more protection.
Check all over your body for ticks at the end of the day. Taking a shower can help wash away any you
might miss. Also, wash your clothes.
Stay out of thick underbrush or tall grass. Ticks often hide in these areas. In your yard, you can remove
excessive underbrush or keep ornamental grass shorter, discouraging ticks from living there.
Keep wild animals, especially deer, out of your yard. Many humane ways of doing this exist. Ticks will
catch a ride on wild animals, then hop off on the plants in your yard.
Contact Pest Control Unlimited LLC today for more information about our tick control program.
---
Note to Client
Unfortunately there is not a solution to solve all pests that enter your home at once. With a proper quarterly maintenance and inspection program along with some new cultural practices we can minimize the amount of pests you will see. We strive to stay ahead of the pests you may see by attending state certified classes. These classes help us to learn new techniques and pests that are being encountered.
Service Guarantee
Your home is an ever changing environment. Because of this, what may not be a problem one day could be the next. Whether you bring back an unexpected pest on your next vacation or something is shipped in a box to your home. We are just a phone call away to resolve the problem before it worsens. If for any reason you are not satisfied with our services we will work with you until you are.